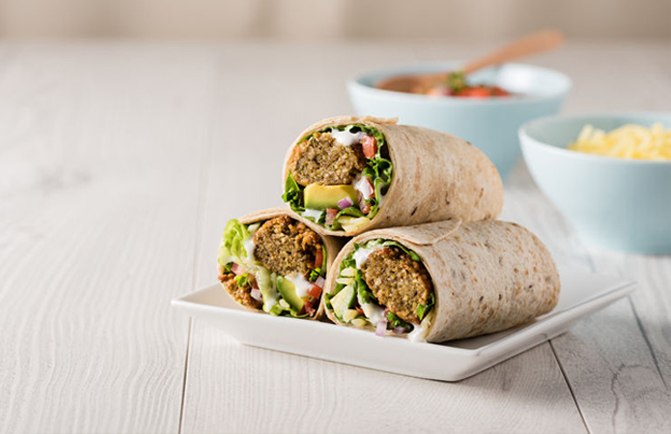 Falafel wraps with avocado
and Savory Tofu Spread
Ingredients
4 multigrain wraps
1/2 cup Savory Tofu Spread
1/2 baby lettuce leaves
1 cucumber, sliced
1/2 red pepper and avocado, chopped
400g can chickpeas, drained and rinsed
300g can broad beans, drained and rinsed
2 garlic cloves, peeled and chopped
3 tsp harissa paste
1 tsp each ground cumin, coriander, allspice, salt
4 spring onions, trimmed and finely sliced
6 tbsp fresh chopped mixed coriander and parsley
2 tbsp plain flour
1 tsp baking powder
4 tbsp sesame seeds
Oil for frying
Preparations
To make the falafel, put the chickpeas and beans in a food processor. Add the garlic, harissa, spices, lots of seasoning, and spring onions. Whizz until well mixed. Add the fresh herb leaves and pulse until just mixed in. Stir in the flour and baking powder. Chill for 30 minutes or longer.

Divide the mixture into 12 (50g each), then roll each piece into a ball and flatten them into patties 5-6cm across. Chill again until you want to serve them. Sprinkle with sesame seeds, pressing them in.
Heat a little oil in a frying pan and fry the falafel in 2 batches, for about 3 minutes on each side, until crisp and golden. Drain on kitchen paper.

Place wraps on a flat surface. Spread Savory Tofu Spread along the center of each wrap.
Top with lettuce, chopped avocado and pepper, cucumber and 3 falafel halves. Roll up firmly to enclose filling. Serve.