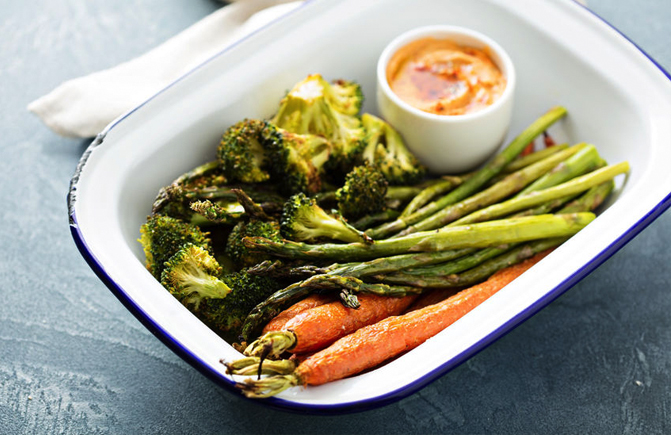 Roasted carrots,
asparagus and broccoli with
Savory Tofu Spread
Ingredients
2 lbs. fresh washed asparagus, broccoli, carrots
5-6 tbsps Savory Tofu Spread
3-4 tbsp olive oil
1/2 tsp salt (preferably fine sea salt)
Fresh ground black pepper, to taste
Preparations
Preheat your oven to 400 degrees.
Cover a cookie sheet with aluminum foil.
For asparagus, trim off any woody ends and if the stalk is very thick use a vegetable peeler and shave off the thick outer flesh of the lower one third of the stalk to expose the most tender part.
For broccoli, cut off florets into whole pieces.
For carrots, cut off both ends and cut medium carrot sticks. Leave them whole. (Optional)
Using your hands, toss the prepared Vegetables with the olive oil, salt and pepper and arrange in a single layer on the cookie sheet.
Roast at 400 degrees in the center rack of your oven for 15-20 minutes (broccoli may take 25-30 min) turning over with a spatula half way through roasting for even cooking.
Remove from the oven when the vegetables are tender and browned testing at 15 minutes and roasting longer if needed.
Serve immediately with Savory Tofu Spread.